Comfort Inn San Diego Airport at the Harbor ADA Website Conformance Statement
10/15/2018
This website was designed and programmed to be conformant with Level A and Level AA of the Web Content Accessibility Guidelines version 2.0 (WCAG 2.0).
Additionally, the entire site was tested using WAVE Web Accessibility Evaluation Tool, created by WebAIM.org, a third party authority in web accessibility. The site is tested periodically to ensure any added or edited content conforms with the latest accessibility guidelines, as reported by the WAVE tool.
Please note that our efforts are ongoing. If, at any time, you have specific questions or concerns about accessibility of any specific page on
https://www.comfortinnattheharbor.com/
, or any of our other destination websites, please contact us at
sales@comfortinnattheharbor.com
. Should you find an accessibility issue, please specify the exact webpage and content concern in your email. We will make all reasonable efforts to ensure the page is accessible for your needs.
Subsequent reports were run on: 10/02/2021; 09/02/2021; 08/03/2021; 08/02/2021; 07/01/2021; 06/02/2021; 06/01/2021; 05/01/2021; 04/01/2021; 03/01/2021; 02/01/2021; 01/01/2021; 12/01/2020; 11/03/2020; 10/05/2020; 10/01/2020; 09/09/2020; 09/03/2020; 09/01/2020; 08/01/2020; 07/06/2020; 06/08/2020; 06/02/2020; 05/03/2020; 03/01/2020; 02/12/2020; 02/01/2020; 01/01/2020; 12/04/2019; 11/01/2019; 10/01/2019; 09/01/2019; 08/07/2019; 08/01/2019; 07/05/2019; 07/04/2019; 06/08/2019; 11/01/2018; 10/31/2018; 10/15/2018
Accessibility Software and Services
The following tools and services are available for free to assist you with viewing and interacting with our website:
Click Here for HTML Validator, a free service for checking that web pages conform to published HTML standards.
Click Here for Web Page Backward Compatibility Viewer, a tool for viewing your web pages without a variety of modern browser features.
Click Here for Lynx, a free text-only web browser.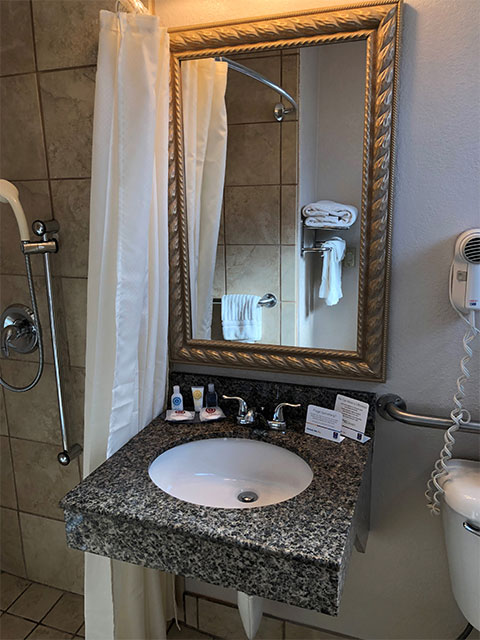 Property Accessibility Features
Accessibility Equipment for The Deaf
Check-in assistance available upon request, at the front desk
ADA Accessible Guest Room
All doorways to and within Accessible Guest Rooms are Wheelchair Accessible
Ground Floor Hotel Entrance
Main Features of Hotel Accessible on Ground Floor
On-Site Designated Accessible Parking
People in Need of Accessible Features Can Book Accessible Rooms During the Same Time and Terms That Others Can Reserve Rooms
Staff Has Access to Information About Guest Rooms
Van Accessible Parking
WCAG Level 2.0 Compliant Website
Wheelchair Accessible
Mobility & Hearing accessible
Guest Room Accessibility Features
Wheelchair Accessible
Lowered Shelving
Closed Captioning Television
Hearing Impaired Light Alerts - Free Portable Equipment Provided by Hotel
Ground Floor King Room available
Telephone with Visual Call Alert - Free Portable Equipment Provided by Hotel
Visual Doorbell Alert
Visual Alarm Alert
Visual Telephone Alert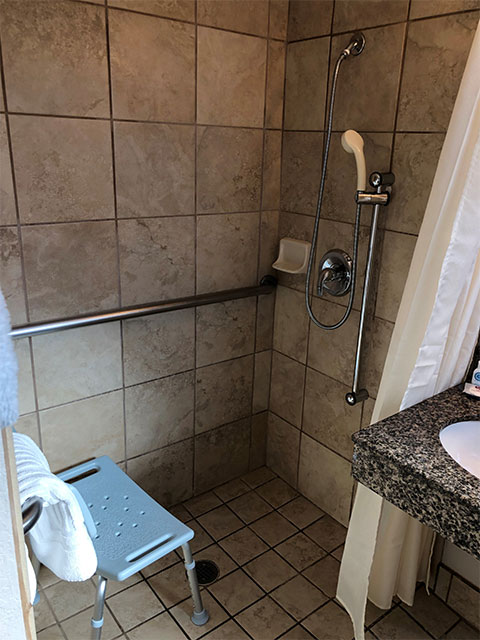 Bathroom Accessibility Features
Roll-in shower with seat
Hand-held Shower Wand
Lower Mirrors
Shower Seat
Toilet Grab Bar
Mobility Accessible w/ Roll-in Shower
Common Areas of Hotel
Entrances
Public parking
Check-in area
Path of travel to essential services
Accessible Breakfast room on the ground floor
Breakfast attendant available with assistance upon request, in the breakfast area
Accessible Swimming Pool on the ground floor
Lift in position available for the pool
ADA accessible rooms available based on availability. If an ADA room is not bookable on our website, we are sold out for that room type. Please don't hesitate to contact us at sales@comfortinnattheharbor.com if you have any further questions